Taco Party Dip
Prep time
Cook time
Servings
Ingredients
Crackers

1

pkg

package Crunchmaster® Aged White Cheddar Multi-Grain Crackers

Produce

1/2

cup

chopped fresh tomatoes

1/4

cup

green onions, thinly sliced

1

chopped avocado

3

tbsp

chopped cilantro

Dairy

2

cups

shredded Mexican blend (cheddar/Monterey Jack) cheese

1/2

cup

sour cream

Meat

1

lb

lean ground beef

Canned Goods

1

can

fat-free refried beans (16 oz.)

Baking & Spices

1

pkg

taco seasoning mix (1.25 oz.)
Instructions
Preheat oven to 350˚F. In a large skillet, brown the ground beef and season with taco mix. Set aside.

Spray a 24 oz. Au Gratin dish, or 9" deep dish pie pan with non-stick baking spray. Evenly spread 1 can of fat-free refried beans on the bottom of the dish. Top with ground beef/taco mixture. Sprinkle with Mexican blend cheese.

Layer the Crunchmaster® Aged White Cheddar Multi-Grain Crackers around the outside of the dish in an overlapping pattern. Cover crackers with aluminum foil to prevent over-browning.

Bake at 350˚F for 15 minutes, until cheese melts, and dish is warmed through.

Take from oven and remove foil from crackers. Cover with fresh chopped tomatoes and sliced green onions.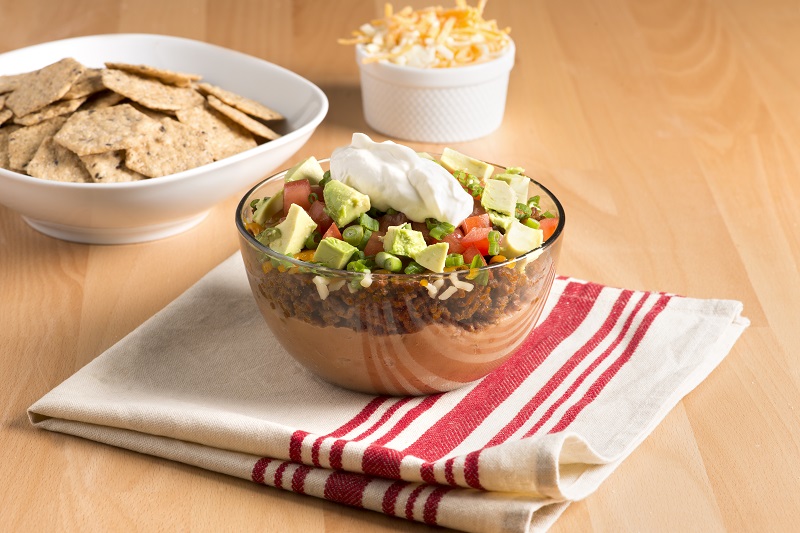 There is no Nutrition Label for this recipe yet.