Blackened Fried Turkey
Looking for a new way to cook your turkey? This is it. Cajun inspired, blackened crust, crispy outside, juicy inside. The perfect holiday meat treat.
Prep time
Cook time
Servings
Ingredients
Full Turkey Breast

While you can use a full bird, we like frying just the breast because it cooks better in the frier.

2

gallons

Water

1 1/2

cups

kosher salt

1

cup

Brown Sugar

1

tbsp

dried thyme

Peanut or Corn Oil
Instructions
BRINE
In a large pot or food grade bucket, combine water, kosher salt, brown sugar, Beard's Black Magic, Blonde Beard's Rooster Dry Rub, dried thyme

Add the turkey to the brine and let sit under refrigeration for 24 hours.
PREP
After soaking for 24 hours, remove turkey from the brine.

Pat as dry as possible with paper towels.

Coat with Rooster Dry Rub. We like a nice, thick coating, with very little skin showing.
FRY
Pre-heat frier to 350° - 375°. Never let the oil get above 400°.

Slowly and carefully place thawed turkey in the frier. NEVER fry a frozen turkey, that's the easiest way to become a fried turkey statistic.

Fry until a meat thermometer reads 165° in the middle of the breast. We recommend probing the bird in several different spots to make sure you are getting a consistent reading. A good rule of thumb is the turkey should be in the frier for around 3.5 to 4 minutes per pound, plus 5 minutes.
REST & CARVE
Let the Turkey rest at room temp for at least 30 minutes before carving.

Slice down the breast plate, removing each breast from the bird. Once removed, slice in the opposite direction at the desired thickness.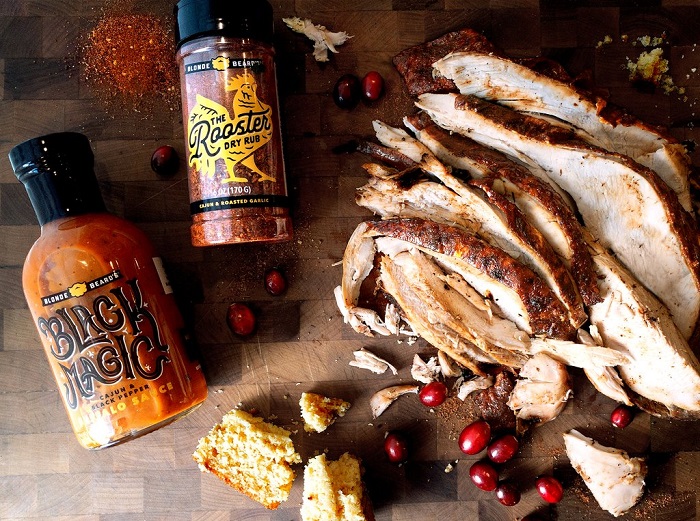 There is no Nutrition Label for this recipe yet.