We have a seriously soft spot in our hearts for the humble California roll.
Whether sitting down to a fancy dinner in a Japanese restaurant, or just grabbing a quick bite on our lunch-break, chances are we'll order up at least one order of these yummy Western influenced sushi rolls.
Fun fact: A sushi roll in Japanese is called maki.

California Roll
Prep time
Cook time
Servings
Ingredients
3

cups

cooked Japanese rice

40

ml

Rice Vinegar

1

tbsp

Sugar

3/4

tsp

Salt

Ingredients for rolls

2

tbsp

mayonnaise

1/4

English Cucumber

1

avocado

1/4

pound

imitation crab

3

nori (dried seaweed) sheets

Sesame seeds

*Use gluten free imitation crab or real crab and gluten free soy sauce for a complete gluten free recipe.
Instructions
Place cooked rice in a container and add rice vinegar, sugar and salt. Mix well.

Wrap bamboo mat with plastic wrap and have a bowl of water mixed with a little rice vinegar on the side.

Lay a nori sheet with the shiny side facing down on the bamboo mat. Add 1 cup of rice to the center of the nori sheet and wet your fingers with vinegar water.

Spread the rice using your fingers, evenly across the nori sheet.

Sprinkle about 1/2 teaspoon sesame seeds onto the rice evenly across.

Turn the nori sheet over so the rice is facing down. Move the nori sheet close to the edge of the bottom of the bamboo mat.

Add a little mayonnaise across the nori sheet (from left to right) and top with cucumber, avocado and imitation crab. Each ingredients should form a line across (don't overcrowd the roll).

Grab the bottom edges of the mat with your thumbs and hold on to the toppings with your other fingers.

Roll into a tight cylinder and lift the edges of the bamboo mat to prevent it from rolling into the roll together with the filling. The mat should look like the letter C from the side as you roll forward. Keep rolling forward using a little pressure and let go when the roll is done.

Cut the roll in half and then into thirds.

Serve with soy sauce and wasabi.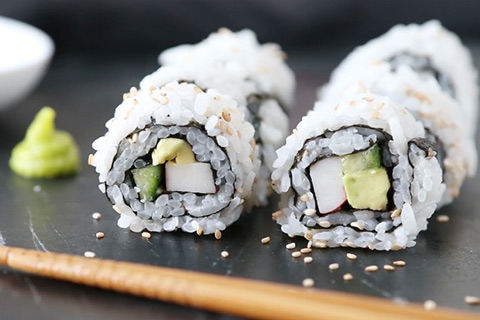 There is no Nutrition Label for this recipe yet.