Caramelized Onion and Turmeric Dip
Prep time
Cook time
Servings
Ingredients
Crackers

1

pkg

Crunchmaster® Grain Free Lightly Salted

Dairy

2

tbsp

Butter

1

cup

sour cream

Produce

2

large onions, thinly sliced

2

tbsp

finely chopped fresh chives, divided

3

cloves garlic, minced

3

cups

veggie sticks (such as carrots, celery, cucumber, red peppers)

Baking and Seasoning

1/2

tsp

each salt and pepper, divided

2

tsp

Ground Turmeric

Condiments

1

tbsp

Dijon mustard
Instructions
Melt butter in skillet set over medium heat; cook onions, and 1/4 tsp each salt and pepper for 10 to 12 minutes or until slightly softened. Reduce heat to medium-low; cook for 15 minutes.

Stir in turmeric; cook for 5 to 10 minutes or until onions are dark golden brown and fragrant. Let cool completely. Reserve 1 tbsp onions; set aside.

In serving bowl, stir together sour cream, caramelized onions, mustard, half of the chives, garlic, and remaining salt and pepper. Top with reserved caramelized onions and remaining chives. Serve with crackers and veggie sticks.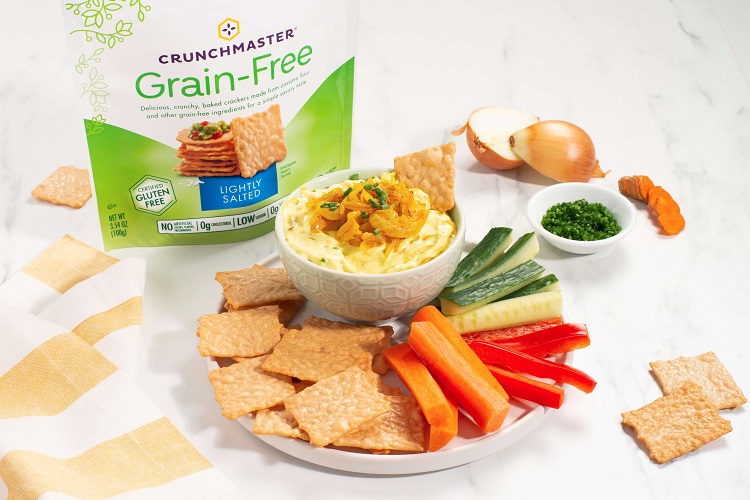 There is no Nutrition Label for this recipe yet.