Crispy Cod with Herby Vegetables
An easy one pan dinner that will surely impress. Why not try whipping this up for dinner tonight?
Prep time
Cook time
Servings
Ingredients
1/2

cup

bread crumbs

16

oz

Cod

1

tsp

Oregano

1

egg, beaten

20

cherry tomatoes

2

small courgettes cut in half lengthwise

1/2

cup

black olives, de-stoned

1

tsp

thyme leaves

2

tbsp

Crown Prince Natural Anchovies in Olive Oil

Salt and Pepper to taste
Instructions
Pre-heat oven to 350 degrees F. Grease an 8" x 12" baking dish well with cooking spray.

In a shallow bowl or plate combine the bread crumbs, oregano and a bit of salt and pepper. With a fork stir to mix well.

Place the beaten egg into a bowl and dip the fresh cod fillets patted dry into the egg then dredge into the breadcrumb mixture. Place onto the prepared baking dish. Continue this process till all the cod fillets are breaded.

Scatter the tomatoes, zucchini slices and olives around the fish fillets in the baking dish. Sprinkle the thyme leaves over top and drizzle with a bit of olive oil over the top of the vegetables and season with a bit of salt and pepper.

Cover with foil and bake at 350 degrees F. covered for 20 minutes. Then remove the foil and cook a further 10 minutes, or until the tomatoes start to pop. Serve straight away.

Serve with your preferred grain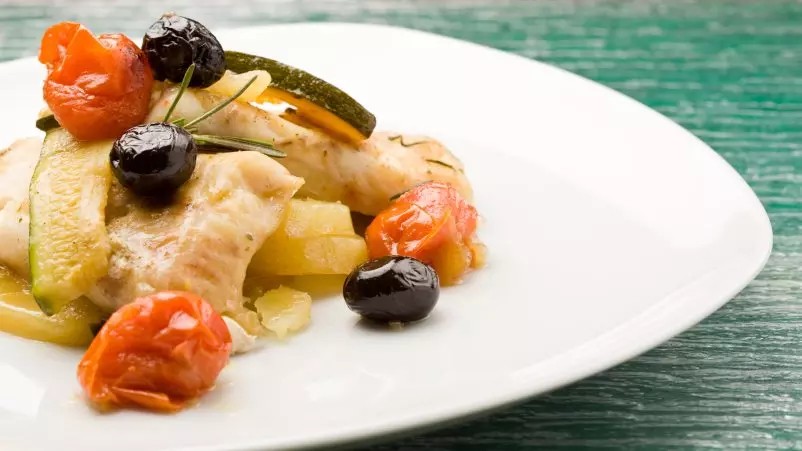 There is no Nutrition Label for this recipe yet.