Dry Rub Wings
There are many ways to make a great wing. When we aren't dousing ours in sauce, we reach for our dry rub. With chunks of garlic, herbs and spices, it delivers the perfect crunchy crust no matter which way you cook 'em.
Prep time
Cook time
Servings
Ingredients
wings

about 1 lb per person
Instructions
Prep
Pat wings dry with a paper towel.

Coat with a generous layer of Blonde Beard's The Rooster Dry Rub until almost no skin is showing. You want a thick layer.
Cook
Preheat grill to medium high heat, 350°- 400°.

Grill in single layer over direct heat.

After a few minutes, flip and if desired, add more rub.

Grill for a few more minutes and flip again. If desired, add more rub.

Repeat grilling and flipping until wings are cooked through and skin is crispy and bite through.
Oven
Preheat oven to 425°.

Place wings on a drying rack on top of a baking sheet. This keeps wings out of their juices to ensure crispiness.

Bake 45 - 60 minutes, flipping after 25 minutes. Wings are finished when they are cooked through, golden brown and look slightly overcooked.
Air Frier
Place in air fryer basket cook at 400 degrees for 15 minutes. Do not overcrowd.

Check and flip.

Cook another 15 minutes on other side.

Check and continue to cook until desired crispiness. After 30 minutes, check every 5 minutes. Remember crispy is better.
Oil Frier
Preheat oil to 375° - 400°.

Slowly and carefully, place thawed and coated wings in oil.

The cold wings should drop the temperature of the oil to approximately 350°. Cook at 350° for 12 - 15 minutes, until crispy.

Remove from oil, allow to drain on a paper towel lined plate.
Smoker
Preheat smoker to 225° - 250°.

Smoke wings on indirect heat for 1.5 - 2 hours, turning halfway through.

Remove wings from smoker and set aside. Increase the temp of the smoker to 375° - 400°.

Once the smoker is hot, put wings back on for a few minutes per side. This crisps the wings and ensures the skin is bite through.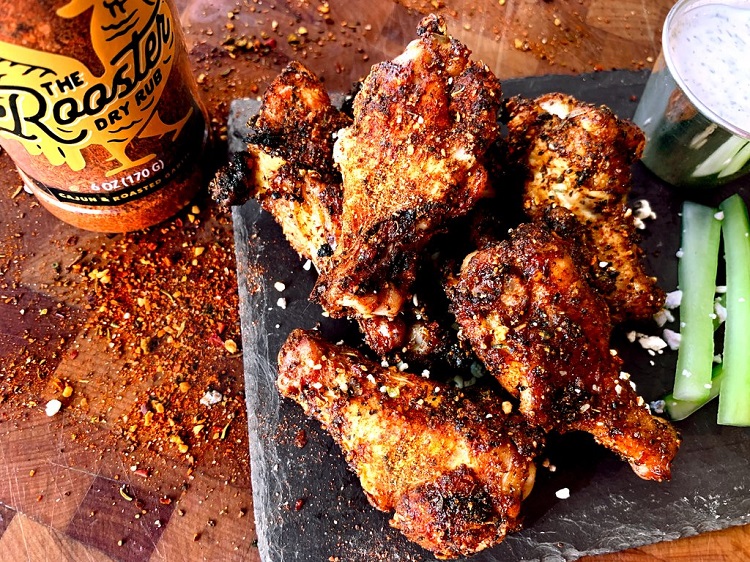 There is no Nutrition Label for this recipe yet.