Falafel Lunch Box
Prep time
Cook time
Servings
Ingredients
Crackers

1/3

cup

finely ground Crunchmaster® 6 Seed Club Pack, plus more for serving

Produce

3/4

cup

fresh parsley leaves

3/4

cup

fresh cilantro leaves

1/2

onion

finely chopped

2

cloves garlic

minced

2

tbsp

lemon juice

2

cups

sliced cucumbers

Dairy

1/3

cup

Plain Greek Yogurt

Pantry

1

cup

dried chickpeas

1/3

cup

Tahini

1

cup

sliced pickles

Baking and Spices

1 1/2

tsp

ground coriander

1

tsp

Cumin

1 1/4

tsp

Salt

divided

1/4

tsp

Cayenne Pepper

1/4

cup

all-purpose flour

2

tsp

Baking Powder

1/2

tsp

Pepper

Oil and Vinegar

4

cups

Vegetable Oil
Instructions
Place chickpeas in large bowl; pour in enough water to cover by 2 inches. Cover and let stand for 8 hours. Drain and set aside.

In food processor, combine parsley, cilantro, onion, garlic, coriander, cumin, 1 tsp salt, cayenne and black pepper; pulse until mixture is consistency of pesto. Add chickpeas; pulse for about 2 minutes or until mixture resembles medium-size crumbs, scraping down side as needed. Set aside.

In microwave-safe bowl, whisk flour with 1/3 cup water until smooth. Microwave, whisking every 10 seconds, for 40 to 80 seconds or until mixture is stiff and smooth. Stir in baking powder. Mix into chickpea mixture until well combined. Shape tablespoonfuls into 24 balls.

In large high-sided pot set over medium-high heat, heat oil to 350°F. Fry falafel, in batches, for 1 to 2 minutes or until golden brown and crispy. Transfer onto paper towel¬–lined baking sheet.

Meanwhile, in bowl, whisk together tahini, yogurt, lemon juice, remaining salt, and 2 tbsp water until light and creamy. Refrigerate until ready to use.

Serve falafel immediately with crackers, tahini sauce, cucumbers and pickles, or pack in a lunchbox.

Tip: Freeze uncooked falafel balls in an airtight container for up to 2 months. Thaw and proceed with recipe to prepare a whole week of lunches!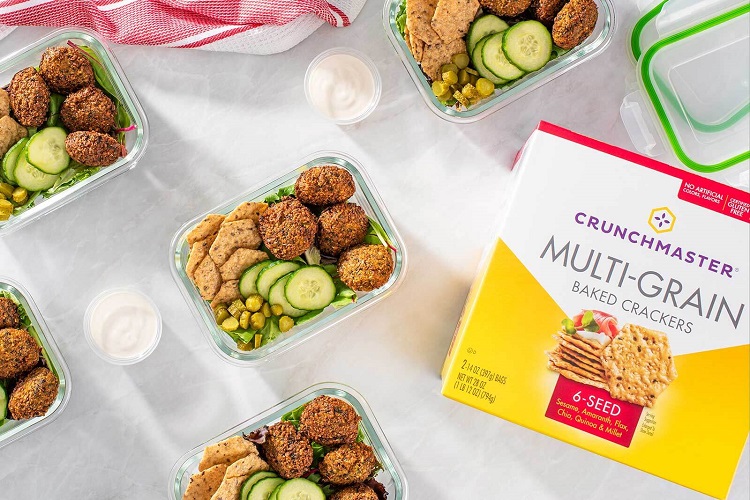 There is no Nutrition Label for this recipe yet.