Gluten-Free Bagel French Toast Stuffed with Vegan Cream Cheese
Prep time
Cook time
Servings
Ingredients
Vegan Gluten-free Bagel French Toast

1

cup

your choice of plant-based milks

1

tbsp

ground chia seeds

1

tbsp

maple syrup

1

tsp

Vanilla

2

tbsp

non-dairy butter

2-4

Cinnamon & Raisin Bagels

Vegan Cream Cheese Filling

1/4

cup

vegan butter or ½ stick of vegan butter at room temperature (we used Earth Balance Original Buttery Spread)

4 oz

1/2 cup

vegan cream cheese, slightly softened (we used Tofutti Better Than Cream Cheese, Plain) View Product 2 cups

2

cup

sifted powdered sugar, up to a cup and a half extra for consistency preferences

1

tsp

lemon juice

1 1/2

tsp

lemon zest (about half a lemon, zest before juicing)

2

tbsp

raspberry jam

1

tsp

Vanilla
Instructions
Vegan Cream Cheese Filling
Beat vegan butter in a bowl until smooth. Add in vegan cream cheese and mix until creamy.

Mix in lemon zest, raspberry jam and vanilla until smooth and combined.

Blend in powdered sugar one cup at a time, until mixture becomes thick, spreadable and your desired consistency and sweetness.

Allow filling to set in the fridge slightly while you prepare your French toast bagels.
Vegan French Toast Bagels
Begin by making batter. In a shallow bowl, combine plant-based milk, ground chia seeds, maple syrup, and vanilla. Set aside for approximately 5 minutes, giving the mixture time to thicken slightly.

Working with half a bagel slice at a time, dip both sides of the bagel slice into the soaking mixture. Place slice in a pre-heated, non-stick pan greased with non-dairy butter over medium-high heat.

Cook until golden brown on one side. Flip and cook again until the second side is golden as well. Repeat with the remaining bagel slices, transferring them to a warm oven on a cooking rack on top of a cookie sheet until you're ready to add vegan cream cheese filling and serve. (Note: Steam can make the bagel slices soggy, so do not cover when keeping warm in the oven.)
To Assemble
Remove filling from fridge and generously layer vegan cream cheese filling between slices of French toast bagels. Serve immediately.

Enjoy!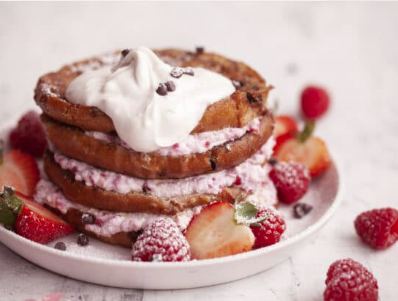 There is no Nutrition Label for this recipe yet.