Gluten-Free Brownies
These brownies are fudgy, chocolate-y, and ready to satisfy anyone's brownie craving.
Prep time
Cook time
Servings
Ingredients
1 1/2

cups

superfine sugar or granulated sugar

8

tbsp

unsalted butter, cold

1/2

tsp

Salt

1

tsp

gluten-free vanilla extract

3/4

cup

Dutch-process cocoa

3

large eggs

3/4

cup

King Arthur Gluten-Free All-Purpose Flour

1

tsp

Baking Powder

1

cup

chocolate chips, optional

1

cup

chopped nuts (optional)
Instructions
Preheat the oven to 350°F. Grease an 8" square pan or 9" round pan; either should be at least 2" deep.

Place the sugar, butter, and salt in a microwave-safe bowl or saucepan. Heat over medium heat, stirring with a heatproof spatula until the butter melts and the mixture lightens in color. This step helps melt the sugar, which will give the brownies a shiny crust.

If you've heated the sugar and butter in a saucepan, transfer the mixture to a bowl; otherwise, just leave the hot ingredients right in their microwave-safe bowl. Blend in the vanilla and cocoa, then add the eggs and mix until shiny.

Blend in the flour and the baking powder. Stir in the chips and/or nuts, if you're using them.

Pour the batter into the prepared pan, spreading it to the edges.

Bake the brownies for 33 to 38 minutes, until the top is set; and a cake tester or toothpick inserted in the center comes out clean or nearly so, with perhaps a few wet crumbs, or a tiny touch of chocolate at the tip of the tester.

Remove from the oven and cool for about 15 minutes before cutting. Once the brownies are cool, cover tightly with plastic.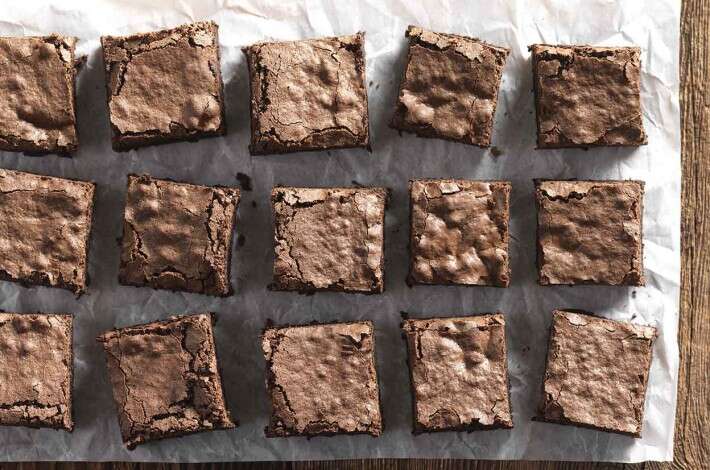 There is no Nutrition Label for this recipe yet.