Gluten-Free Soft Pretzels
Prep time
Cook time
Servings
Ingredients
1

cup

Cauliflower-Based Baking Mix (Original)

1-3

cup

skim milk [or nut-based alternative]

1

tsp

Baking Powder

1

tbsp

melted unsalted butter [or vegetable oil]

6

cups

Water

1

tbsp

Water

2

tbsp

Baking Soda

1

Egg
Instructions
Combine Cauliflower-Based Baking Mix and baking powder, then add skim or nut-based milk, mix well, then add butter or vegetable oil, and mix until smooth.

Form dough into a ball and let rest for 5 mins.

Knead dough ball for about 1 min. or until dough is smooth and sticks to itself well.

Form 4 pretzels by rolling dough into 6 inch lengths, making a U, crossing the ends and folding them back down to the bottom of the U. Alternately, you can make pretzel rods without shaping and folding.

Make egg wash by mixing egg and 1 tbsp. water until smooth.

Bring remaining water (6 cups) and baking soda to a boil. Carefully lower pretzels into the water using a slotted spoon or spatula. Boil pretzels in batches for 30 seconds per batch and remove.

Place pretzels on parchment-lined baking sheet and brush with egg wash, sprinkle with pretzel salt, and bake at 450°F for 15-17 mins.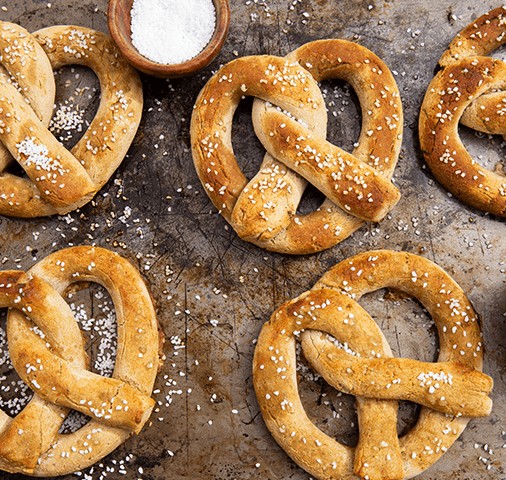 There is no Nutrition Label for this recipe yet.