Lemon Meringue Snaps
Prep time
Cook time
Servings
Ingredients
Snyder's Gluten-Free Mini Pretzels

1

box

of gluten-free lemon pudding, prepared, saving the egg whites

2

tbs

Granulated Sugar

1/4

tsp

cream of tartar

1/2

tsp

vanilla flavoring
Instructions
Thoroughly chill the lemon pudding. Meanwhile, using a beater, whip the egg whites and cream of tartar until the egg whites hold a soft peak. Gradually add the sugar and the vanilla; whip until meringue holds a firm peak; chill.

When ready to serve, top each Pretzel Snap with some lemon pudding and top with a dollop of meringue.

Use a brulee torch to lightly brown the meringue. Serve immediately.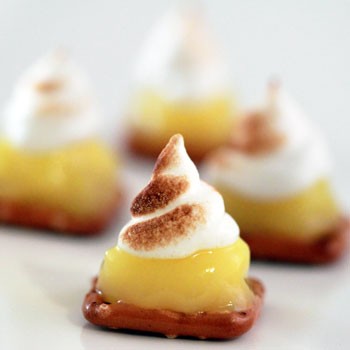 There is no Nutrition Label for this recipe yet.