Moussaka Made Easy
A simplified version on a Greek favorite. The whole family will enjoy these exotic flavors.
Prep time
Cook time
Servings
Ingredients
1/4

cup

bread crumbs

4

Potatoes

2

tbsp

olive oil

olive oil

for brushing

1

lb

ground lamb

or ground beef

1

onion

1

garlic cloves, minced

2

tbsp

Parsley

Parsley

to garnish

1

tsp

cinnamon, ground

1

tsp

ground coriander

1/2

tsp

freshly ground nutmeg

Salt and Pepper to taste

2 + 1/4

cups

tomato puree

2

eggplants

1 + 1/4

cup

Creme Fraiche

2/3

cup

cheddar
Instructions
Peel and leave whole the baking potatoes. Halve and slice thinly the onion. Clean and cut into 1/4 inch slices the eggplants.

In a large pot of salted water on high heat, boil the potatoes until just fork tender, about 15 minutes. Drain and allow to cool fully. Set aside.

In a large sauté pan with deep sides or in an enamel Dutch oven warm the oil over medium heat. Cook the ground lamb crumbling with a wooden spoon as you go till browned and cooked through, about 5 to 6 minutes.

Add in the onion and garlic and cook until the onions start to soften, about 4 minutes.

Add in the parsley, spices, bread crumbs and a bit of salt and pepper to the pan. Stir and cook 2 more minutes before adding in the tomatoe puree.

Turn the heat down to low and allow to simmer and bubble slightly for 2 more minutes. Turn off heat and set aside.

Pre-heat the oven to 400 degrees F. Grease a large 12" x 9" baking dish well with cooking spray and set aside.

Warm a large griddle or pan over medium heat. Brush each slice of eggplant with a bit of oil and grill for 1 to 2 minutes each side until they turn golden brown. Work in batches until all the slices are cooked.

Once the potatoes are cool enough to handle, slice them into thick 1" slices.

To assemble: arrange a layer of potato slices in the bottom of the prepared baking dish. Season with a bit of salt and pepper and layer some of the eggplant slices on top, followed by a few spoonfulls of the lamb mixture, pressing down slightly as you go.

Repeat these layering steps until all the lamb and potatoes are used up and ending with a layer of eggplant slices on the top.

Next dollop the crème fraîche on top of the eggplant layer and spread evenly.

Top with the grated cheese and bake uncovered at 400 degrees F. for 10 to 15 minutes, or until the top is golden brown and the cheese is melty and bubbly.

Garnish with a bit of chopped parsley and serve while warm.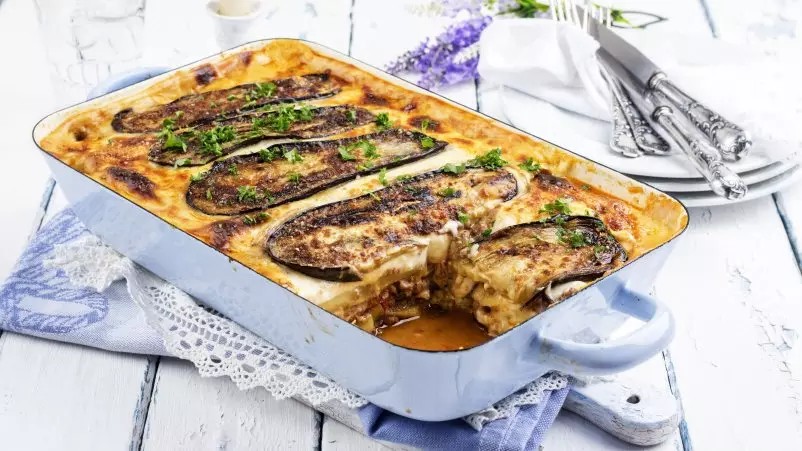 There is no Nutrition Label for this recipe yet.