Pumpkin Snowmen Cake Balls
Prep time
Cook time
Servings
Ingredients
8

slices

Dr. Schär Gluten-Free Artisan Baker 10 Grains & Seeds Bread

1 1/2

cups

Dark Chocolate

melted

1/2

cup

Pumpkin Puree

1/2

teaspoon

Pumpkin Spice

1

pinch

Salt

8

ounces

White Chocolate

melted

1

tablespoon

Coconut Oil

10

Popsicle Stick

or lollipop sticks

Supplies for decorating
Instructions
Line a baking sheet in parchment paper.

Put ¼ cup of the melted dark chocolate into piping bag. Twist the top and keep in a warm place for decorating.

Stir pumpkin, pumpkin spice, and salt into remaining melted dark chocolate until fully incorporated.

Mix melted dark chocolate/pumpkin mixture with crumbled bread thoroughly.

Scoop out 10, 2 tb(sp) balls and 10, 1 tb(sp) balls. Using your hands, roll into spheres.

Take a lollipop stick and stab the smaller ball first. Move it up the stick till you can stab a larger ball. The lollipop stick should not come out of the larger ball on the bottom. Repeat until you have ten sets of two balls on each stick. Refrigerate for 1 hr to firm the balls.

Stir coconut oil into melted white chocolate. Pour into narrow glass/container.

Dip the cake balls on the sticks into the white chocolate one at a time. Rotate to completely cover in white chocolate and let excess drip off. Set on parchment and put in fridge until they pull off parchment easily.

Use the reserved chocolate and candies, seeds, carrots, and anything else to decorate your snowmen. Get creative and have fun!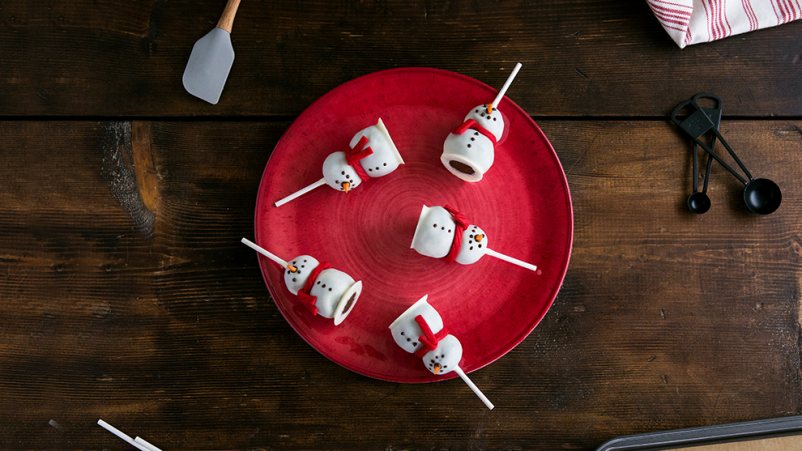 There is no Nutrition Label for this recipe yet.