Sweet-and-Sour Fried Chicken with Fresh Bell Peppers
Like being at a Chinese restaurant. Delicious sweet-and-sour fried chicken. Very easy to prepare.
Prep time
Cook time
Servings
Ingredients
1 and 1/2

cup

bread crumbs

14

oz

Chicken Breast

2

Eggs

Salt and Pepper

3

Red Bell Pepper

1

tbsp

Sesame seeds

Oil

3/4

cup

Water

6

tbsp

vinegar

3

oz

Sugar

3

tbsp

Tomato Sauce

oil for frying
Instructions
Cut up the chicken breast into pieces that are not too small. In a deep plate, beat the eggs together with the salt and pepper. In another plate, mix the breading mixture with the sesame seeds. Dip the pieces of chicken first into the egg, then coat them in the breadcrumbs.

Mix all the ingredients for the sweet-and-sour sauce in a saucepan and heat over a low flame, allowing the mixture to thicken. Then place it aside and allow it to cool. Cut the peppers into small pieces, fry with oil in a frying pan, drain, and keep warm.

Fry the pieces of chicken in a frying pan with plenty of oil until crispy and fully cooked. Then transfer the chicken to kitchen paper (paper towels) to drain the excess oil. Mix the chicken with the peppers.

Arrange on a serving plate and pour the sweet-and-sour sauce on top.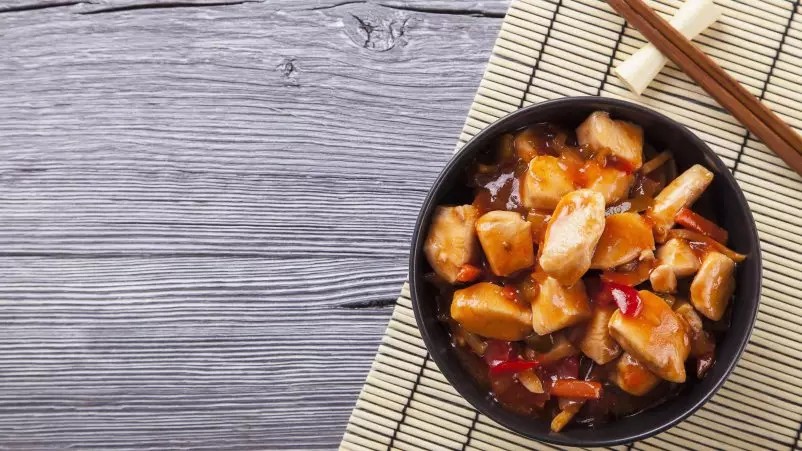 There is no Nutrition Label for this recipe yet.