Maple BBQ Cauliflower Wraps
Celebrate BBQ month with us by making this tasty BBQ Cauliflower wrap! It is gluten-free, vegan-friendly, and made with Proud Sponsor BFree sweet potato wraps. These wraps make the perfect go-to meal for warmer evenings!
Prep time
Cook time
Servings
Ingredients
Maple BBQ Cauliflower

1

large head of cauliflower, stem removed and cut into florets

2/3

cups

white or brown rice flour

1/2

cup

Water

1

tbsp

Smoked Paprika

1

tsp

Oregano

1

tsp

Cumin Powder

1

tsp

Garlic Powder

1/2

cup

barbeque sauce, of choice

2

tbsp

maple syrup, to taste

Butter Bean Spread

1 1/2

cup

butter beans

1

small lemon, zest and juice

Handful of fresh or dried herbs of choice, such as oregano, rosemary

Wraps

5

BFree Sweet Potato Wraps (1 packet)

1

medium-size red capsicum, deseeded and sliced thinly

1/2

cup

red cabbage, sliced thinly

1

small cucumber, sliced thinly

1

cup

salad leaves
Instructions
To make the cauliflower: Preheat the oven to 180°C. Line 1 tray with baking paper.

In a medium bowl, combine the flour, water and spices and mix until smooth. Dip each cauliflower floret in the batter making sure all sides are covered but shaking off the excess. Place the battered cauliflower on the baking tray. Bake for 20 minutes or until the florets are tender.

In another medium bowl, combine the barbeque sauce and maple syrup and mix until combined. Toss the battered cauliflower in the sauce and return them to the baking tray. Bake the cauliflower for another 10 minutes or until golden.

To make the butter bean spread: Add all ingredients to a food processor and process until smooth.

To assemble the wraps: Place a wrap on a clean surface. Spread one side of the wrap with the butter bean spread. Place the cauliflower and vegetables on the spread and collect the sides to form a wrap. Enjoy immediately or store in an airtight container until you're ready to eat.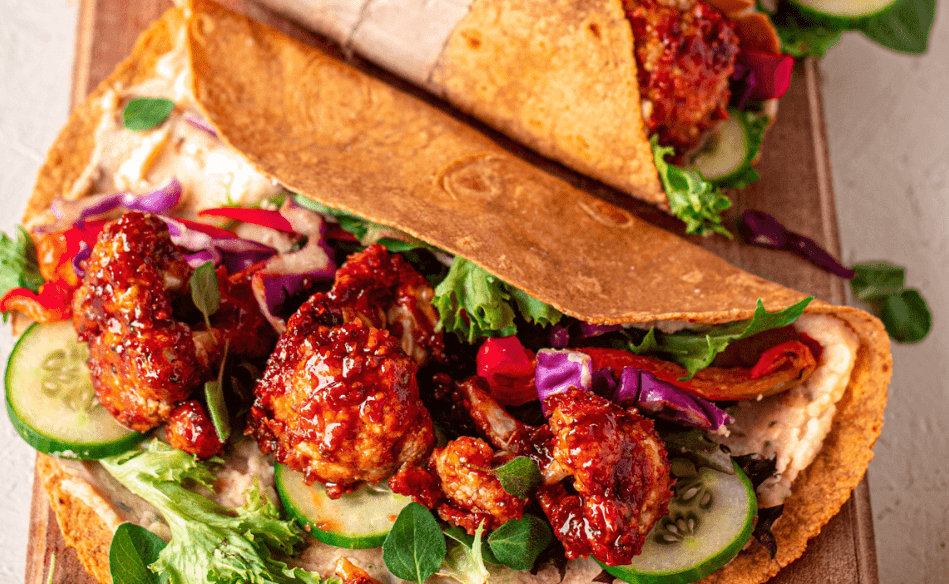 There is no Nutrition Label for this recipe yet.