No Bake Biscuit Break Bars
This super easy and delicious no bake biscuit break bars recipe is the perfect indulgent treat.
Prep time
Cook time
Servings
Ingredients
2

boxes of

Nairn's Biscuit Breaks - Oats & Chocolate Chip

150

g

of Spread - works better than a hard block of butter for this recipe

300

g

of Icing Sugar

2

tbsp

Cocoa Powder

500

grams

your favourite chocolate
Instructions
Put the spread, icing sugar and & cocoa powder into a bowl and mix until completely smooth. Takes approx. 30 seconds with an electric whisk but you could also just use a spoon if you haven't got a whisk to hand!

Take 2 Nairn's biscuits. Spread 1 tbsp of buttercream on the underside of one biscuit and then sandwich the other biscuit ontop. Repeat for all your biscuits! >Tip: to get the signature sandwich look, don't spread your buttercream to the very edge of the biscuit (leave about half a cm around the outside).

Carefully melt half of your chocolate. >Tip: Heat a large pan with approx. 1 inch of water until simmering, not boiling!! Place a bowl ontop of the pan (make sure the base of the bowl isn't touching the water). Break the chocolate into small squares and place into the bowl. Once the chocolate is almost melted, remove the bowl from the heat and stir stir stir until its fully melted!

Dip the sides of each biscuit sandwich into the chocolate. Place on a wire rack and put into the fridge for 10 mins to set.

Melt the rest of your chocolate. Dip the top and bottom of each biscuit sandwiches into the chocolate, place on the wire rack and into the fridge until fully set.

Eat!!!!!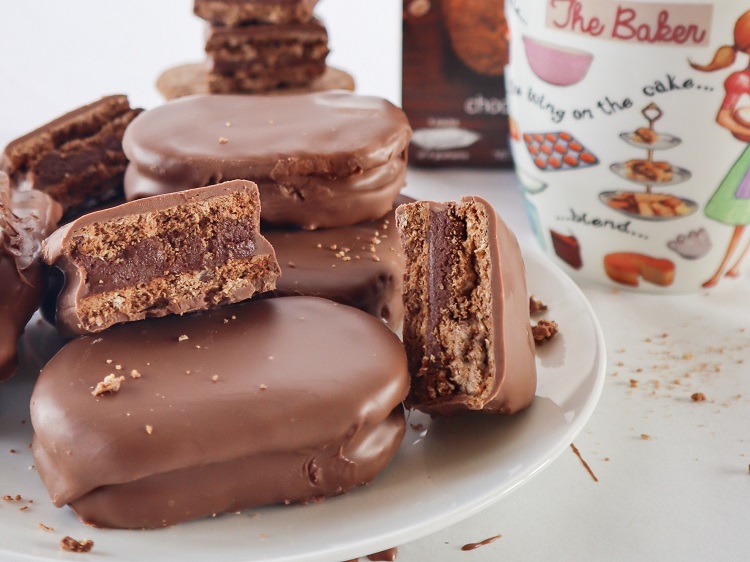 There is no Nutrition Label for this recipe yet.